Missouri River Kennels Testimonials
Here's what a few of our customers have had to say about us.
Have a testimonial of your own to share?
Send a Testimonial
Greg & Erin McMartin
Winter 2020 - Garretson, SD
We got our puppy Jet from Missouri River Kennels in November 2020. She has been such an amazing addition to our home. She is well behaved and so much fun to have around. She is incredibly smart and has been very easy to train. At only one year old, Jet has an amazing hunting drive. She is naturally drawn to birds and has been pointing since a young age. She recently went on her first real hunt and we were so impressed with her drive and performance. It is a lot of fun to get to watch her hunt! We are very excited to get to see her in action during pheasant season. We really could not ask any thing more and are so thankful that we have Jet in our family. We highly recommend Missouri River Kennels!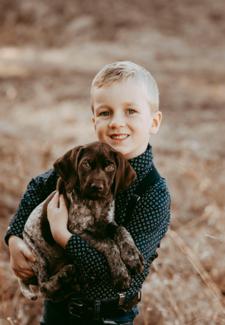 Michelle Sperr
Fall 2020 - Minnesota
Fall 2020, we purchased a female GSP from Missouri River Kennel. Our kids named our pup Ruby and she has been such a blessing to our family and farm ever since! Dean even met my husband at the local airport so we could fly her home! Dean and Debbie are so knowledgeable and helpful. While we waited for our pup, we got picture updates and communication about how things were coming at the kennel. Since bringing her home, we have been in contact and they have offered tips on food, training and answered all our questions. Ruby is such a well tempered GSP with a keen hunting nose and drive. She has a natural drive to hunt and lots of energy but is gentle and sweet with our kids too. She comes in for movie nights and snuggles in when they read her stories. My husband can't wait to see her out in the field next fall for pheasants. She is an amazing dog and we would highly recommend Missouri River Kennels!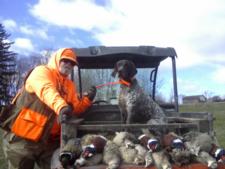 Donna and Nelson Myers
Fall 2016 - Pennslyvania
Hedy is a wonderful and beautiful dog...everyone who is around her falls in love with her. My granddaughters want to trade their dog for Hedy! She has given my husband purpose. He loves training dogs, especially bird dogs! Hedy is not only a hunting dog, she is family. We love her! Donna Meyers I bought Hedy in 2016 while on a hunting trip in South Dakota. I had shorthairs years ago when there were still some native pheasants in Pennsylvania. My other dogs were out of the best hunting bloodlines in the East. I was 70 years old and a little apprehensive about getting another high energy dog. Hedy has been a rescue for me personally. Hedy continues to exceed all my expectations, has great conformation and a wonderful temperament. My 3 young granddaughters love her too. I belong to a game farm where Hedy is a relentless hunter. She points and retrieves dead and crippled birds. If you want an excellent hunting dog and companion buy a dog from Dean and Debbie, then just add the exercise, training, and love and you'll be very happy! Nelson Myers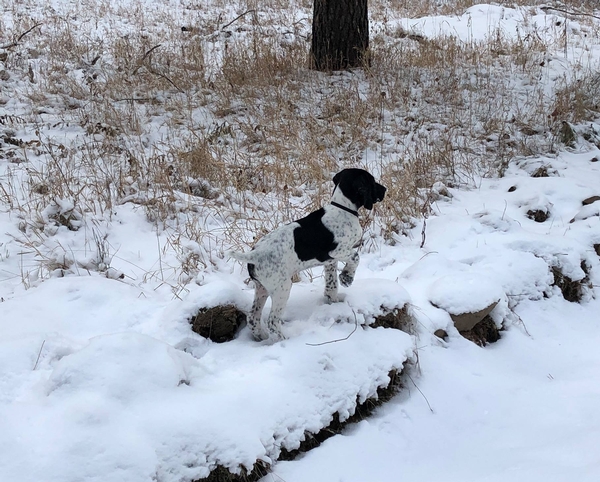 Alan Lee
Tucker at home in the Black Hills
"Tucker" has the pointing instinct! Getting along well. Responds to his name,
the "no" command and has not messed his kennel box at all. I am
very proud of him, he is so smart and fearless. Can't wait to start wing training.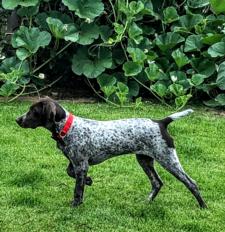 Greg & Patti Davidsmeier
Spring 2018 - Chamberlain, SF
This is Birdie at almost five months. We are looking forward to pheasant hunting with her this Fall. She makes a great addition to our family and we love her so much.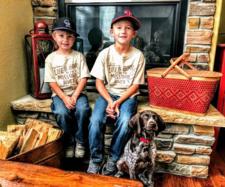 Greg & Patti Davidsmeier
Spring 2018 - Chamberlain, SD
We purchased our first German Shorthair puppy from Dean and Debbie. What an amazing experience. Dean and Debbie truly care about their puppies. We wanted a dog that was kid friendly for our grandsons and a hunting dog. When we first met Debbie you knew right from the get go that she loved animals and educated us on German Shorthairs. After always having labs we knew we wanted a German Shorthair and have never been more pleased. Dean kept us in the loop from conception to birth. After birth we received pictures and updates on a regular basis. Missouri River Kennels is the BEST! Thank you for our beautiful Birdie Della who makes a great addition to our family.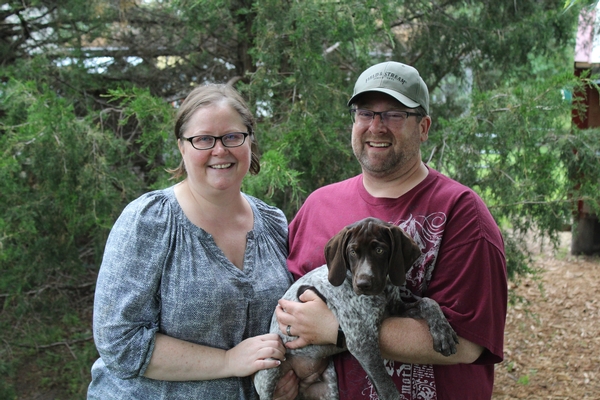 Dani Ellerton
Nov. 2017
We got our (now 2yo) baby, Nova Prime, from Missouri River. He's the best dog, and he's made me fall in love with the breed! Dean and Debbie were wonderful, and we will always consider this kennel when it's time.
June 2018
We just got our 2nd puppy, Sky, and we love him so much! Beautiful and smart, my husband can't wait to hunt with him! Dean and Debbie have a gorgeous slice of Heaven they call home with their dogs, and they graciously let you see where the dogs live; beautifully maintained with lots of space to run, it really is a GSP's dream. Their care of their dogs and the puppies is evident. If you ever have a chance to visit, keep an eye out for Parker, their wily, affectionate cat with hunting skills of his own!
Dani Ellerton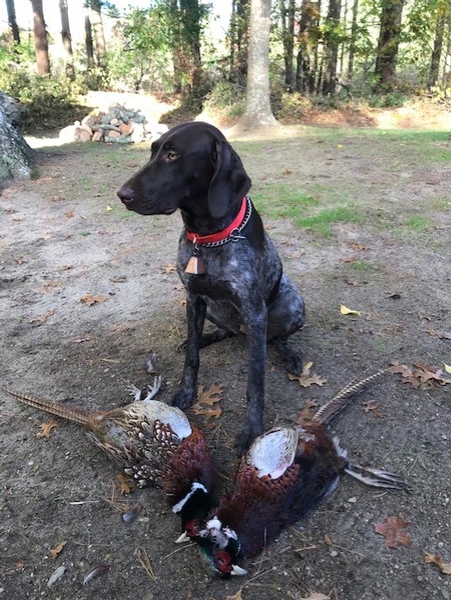 Jay Monteiro
Fall 2016 - West Wareham, MA
Hello Dean, This is Jason Monteiro, its been just over a year now since we got our pup Dakota, and I wanted to touch base and give you an update. She is such an amazing dog, and we couldn't be happier. She has been a great addition to our family, has a great sense of humor, and has brought so much joy to our daughters. We are coming up on the end of our first season of hunting, as she has been incredible. We have had a lot of success for this being her first year, a fierce drive to hunt, and her nose is fantastic. I wanted to wish you and your family a Happy Holidays, and thank you again for everything. Hope all is well.
Allan Webb
Fall 2016 - Savage MN
Tessa is back from "pointer kindergarten" at the trainer. She searches, points and retrieves just fine. Excited to see and be around the gun. She didn't want to hold the point, so we are working on steadying, and she is improving rapidly. Everyone who sees her says she is a classy looking dog and I so agree. We are VERY happy with this little gem. My friends are asking if any more puppies from her line might be coming? Forgot to mention this - she loves the water and is a strong swimmer. Beats the labs to the dummy.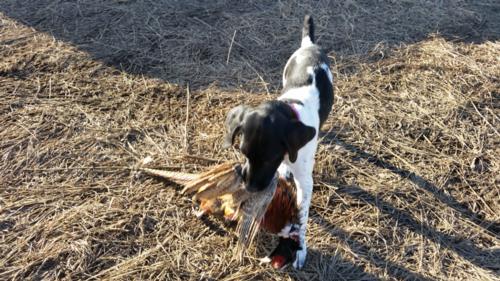 Allen Webb
Hi Dean: Tessa had fun with some birds we'd shot today. She was kenneled while we hunted but I wanted to see what she'd do with a pheasant we brought back. She was excited and very dominant/predator. Outstanding at 12 weeks!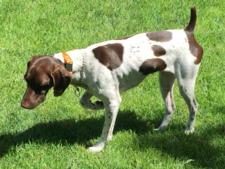 Brian Johnson Dogs name is oshie
2014 - Grand forks nd
Hey Troy just wanted to let u know oshie is a great dog .She is great to hunt with and loves to go on walk.great with grandkids and awesome personality.she must have great blood lines as her nose is unbelievable and points are incredible.i couldn't have found a better dog!!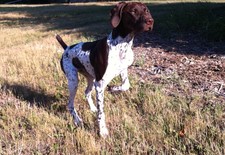 Nathan Mathies
Regina, Saskatchewan, Canada
I purchased Duke from Missouri River Kennels in the fall of 2011. This dog is remarkable in the field. I have been taking him to a professional trainer and he states that this dog has all the ingredients to be a master hunter. Willingness to please, prey drive, and natural instinct to hunt are all characteristics of this dog and it keeps getting better as time goes on. His first year was a blast and it was evident that this dog was bred to hunt. He is very affectionate towards others and well mannered in the house. Missouri River Kennels were outstanding to deal with, They answered any questions I had and made sure everything was in order when the time came to pick up the pup, which was appreciated since I am from Canada. Missouri River Kennels produce great hunting companions and wonderful pets. Thanks again. Nathan and Duke.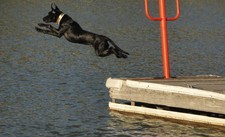 Tyler Luethje
Troy- I bought a Black Lab male named Bear from you last summer. In this picture he is 4.5 months old and loves being in the water. Bear improved a lot every single time he got out in the field this fall and many people that have hunted with him can't believe the things that he is doing at less than a year of age. He is a good flusher who stays in range and a very determined retriever, there is absolutely nothing that will stop him from retrieving a bird or bumper, on land or in water. He is a very smart dog who picks up new commands quickly and I couldn't be happier with him. I also get lots of comments on his looks, very muscular with a nice shiny coat. Several years from now when I need another dog, I will defenitely come back to you.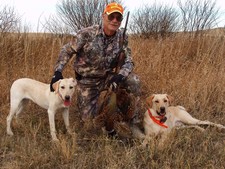 Dennis Thorfinnson
Troy Could not be happier with Lucy. Took her up pheasant hunting for 5 days a week ago. She went from being a puppy (chasing Molly) to, on the last day, a hunting dog who (on our last rooser) did a point, flush, chase down of the wounded bird accross the slew bottom and return it to my hand. Until I saw her face after I took the bird, I thought it had been Molly all over this rooster. Should have known better than to have two yellow labs I guess!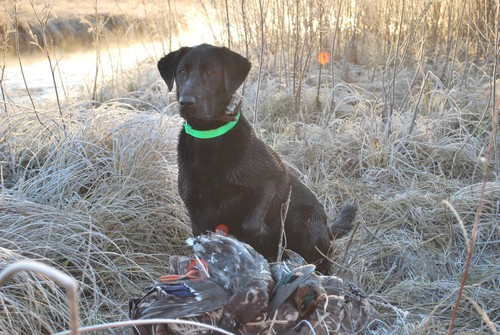 Douglas Sass
Troy,
I have been meaning to send you some pictures of Sage, a black female I got from you last June. She has been coming along really nice and has one of the best temperaments I have ever seen. Anyways, this fall has been her first real season with the ducks and she is doing well, it would be even better if I could get on some birds. Attached is a picture of her from the other morning. We are headed to South Carolina in the morning for good. Hope all is well with you and thanks for awesome dog.
Doug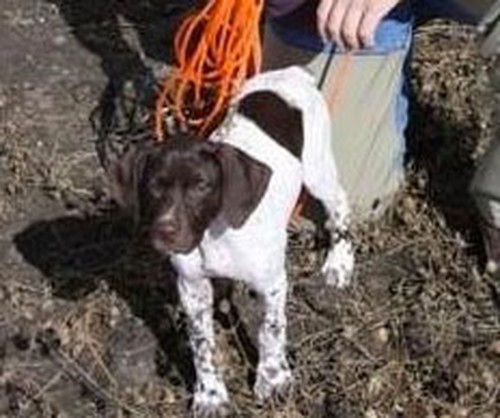 Tyler
Easton is doing GREAT! She has gradually improved since the day I came and picked her up. Her natural ability when it comes to pointing and retrieving are evident every time I take her out in the field. Now that she is about 6 months old, I am going to start training her more rigorously, and can't wait to see how she does. Overall she is a great companion and I am looking forward to many days hunting with this great German Shorthair Pointer.
Tyler
South Dakota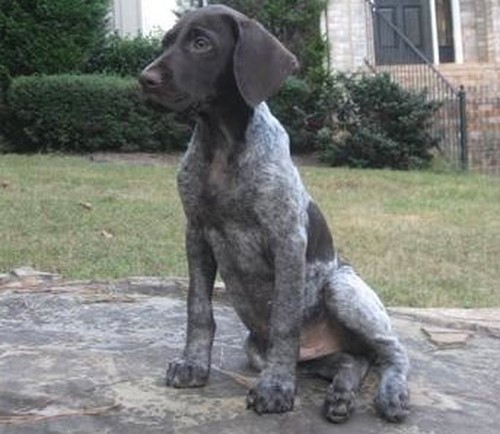 The Schwalls
Scout is doing great! He is very smart, health and happy....and hilarious. He is doing well with basic training and will sit, stay, lay-down and come when called, etc. He'll stay put when told and not move until told....I can walk away (out of sight) and come back a few minutes later and he will still be sitting there. He does very well with short but frequent training sessions. I am looking forward to seeing his continual growth and starting more in depth training when he is no longer a pup and ready to learn new things. Everyone that meets him fall in love with him and says he's beautiful. We're having a great time with him!
The Schwalls
Alabama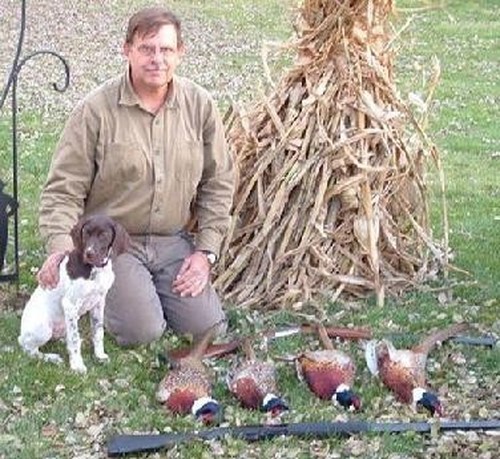 Dean
Molly is doing even better than I could have hoped. I spent alot of time playing with the entire litter before picking her as my favorite. She was the first pup that I got to sight point and this was at the tender age of 5 weeks. Since Molly came home to our place she has proven to be an excellent student. Obedience work is going well, house breaking is a little tougher since the weather turned cold and snowy but things are on track again. Molly has more hunting instinct than any other dog I have had. She has proven herself several times already this fall, pointing several pheasants and even recovering one crippled bird. Hunting all public hunting areas with Molly I have taken 8 pheasants to date. This total should have been higher but I got side-tracked with deer hunting for nearly a month. Whoever said that you can't buy happiness has never owned a good dog! Thanks!
Dean in South Dakota

Tanner Thorfinnson
Hey Troy
Molly is doing great! My dad took her out on her first dove hunt last Wednesday while I was away at school but I went back home on Sunday and took her out she did really well! Anyways here is a couple of pictures of her hunting.

Thanks again Troy she's a great dog,

Tanner Thorfinnson
Wyoming
Briana, Michael, and George
Hi Troy,

Just wanted to give you an update on our little George. He's growing like a weed but is getting smarter and more well behaved by the day. He can sit, lay down, shake a paw, high five, and stay already. We're still working on the coming when called but he is eager to please and very easy to train. I've attached a couple of pics. He has a small fish on a stick toy and has been starting to point it, it's so cool to see the natural ability that these dogs have.

I hope things are well with you!

Briana, Michael, and George :)
Regina, SK
Jason Wolbrink
Hi Troy,
I just wanted to express how truly impressed I am with the Yellow lab I got from you. She retrieved her first dove at only 4 1/2 months, and pheasant hunted like a champ on the first day retrieving and finding downed birds, just two weeks ago I had he with me jumping water holes for ducks and she went in the water to get a dead duck! I am so happy with her disposition and the hospitality you have given her. Thanks again! Keep the amazing pups coming!
A happy dog owner,
Jason Wolbrink
South Dakota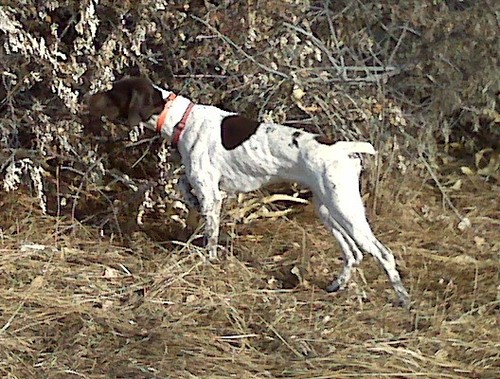 Scott Warner
Hey Troy!

Just wanted to drop a note to you about how impressed I was with the first real hunt that Tank was on. He was amazing. Great instincts! Once the early thrill of being out wore off he worked in a way seen only in dogs much older and experienced. He was even able to pick up single quail after the initial covey was flushed. AWESOME!

Keep that line of dogs coming!

Scott Warner
Windsor, CO